Welcome to the world of High-Performance Driver Education & Track Day events... commonly referred to as HPDE.
Be prepared! Get your free eBook: The HPDE 1st-Timer's Guide
If you're new, or relatively new, to HPDE and Track Day events, this easy-to-read, 25-page free guide is for you! We'll tell you:
What to expect at your first event(s).
How to prepare you and your car.
The answers to commonly-asked questions.
How to make the most of your HPDE experience – stay safe, learn and have fun!
To get your copy of The HPDE 1st-Timer's Guide eBook, fill out the box and click Get It! That's it. Simply download the eBook and save it to your computer, tablet or smartphone. Did we mention that it's free?!
The HPDE 1st-Timer's Guide was co-written by Ryan Staub and Ross Bentley. Ryan is a long-time HPDE instructor and racer who created Lockton Motorsports, which provides HPDE and Track Day insurance. Ross is a coach, trainer, and author of the best-selling Speed Secrets books. After recalling how they felt many years ago when first getting started driving on the track – as well as experiencing decades of organizing HPDE events and instructing new drivers – their goal is to help you feel prepared and comfortable as you begin your high-performance driving experience.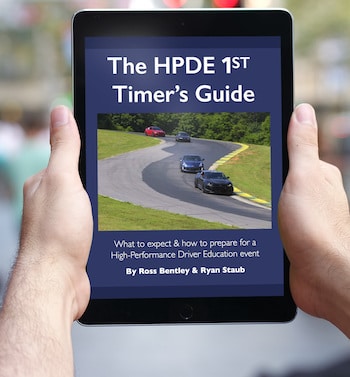 Note: If you do not see a signup box above, your internet browser settings are blocking it. No worries, because you can click here to get to it.
But why an eBook? Because they can be updated at any time. Like driving, there's always more to learn, and as Ryan and Ross learn more about how to help you and other drivers, the eBook will be updated. By downloading the eBook, you will be notified of any update, as well as other resources Ryan and Ross have to offer you.